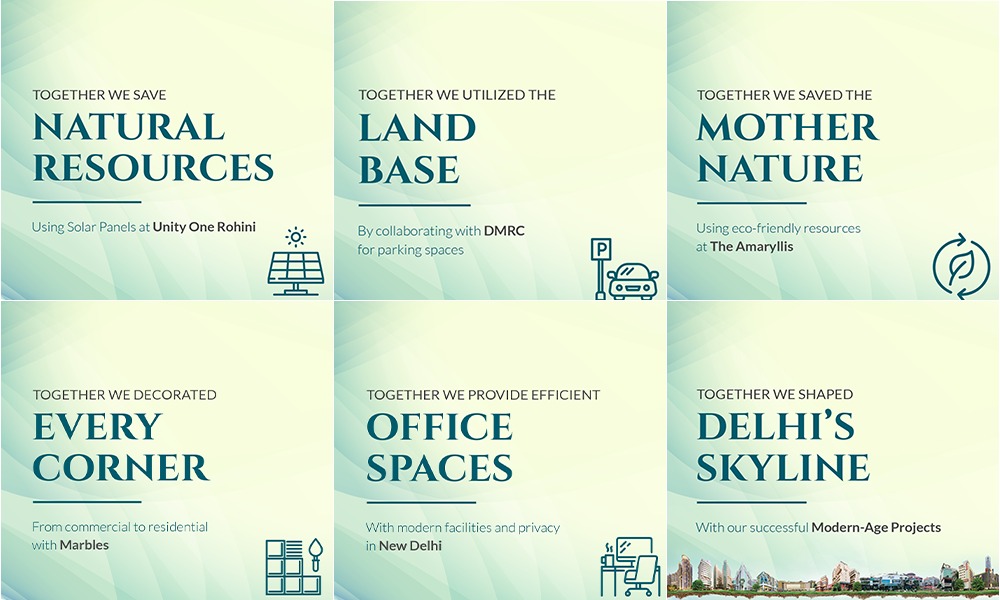 Company
Together We Have Developed Future
Unity Group has set an impeccable standard by delivering diverse projects
since 1996. Unity Group has changed the way of living by contributing to the
development of commercial, residential, educational, healthcare, automobile
retail, and multiple sectors. Unity Group is a socially responsible organisation
that believes in sustainable living. Here's a look at how Unity Group has done
things for the community with its projects.
Together We Saved Natural Resources:
We at Unity Group prioritise sustainable living in our projects. We have taken
a step to save natural resources by planting Solar Panels in Unity One, Rohini.
Together We Utilised The Land Base:
We at Unity Group utilised the land base by collaborating with DMRC to
provide the parking spaces in Unity One Rohini & Janakpuri.
Together We Saved Mother Nature:
We at Unity Group changed the way of choosing life by using Eco-Friendly
resources at The Amaryllis to protect nature.
Together We Decorated:
From commercial to residential, we at Unity Group have decorated every
corner of your place with premium quality Marbles.
Together We Provide Efficient Office Spaces:
We at Unity Group have set a benchmark by delivering systematic workspaces
at premium locations in New Delhi.
Together We Shaped Delhi's Skyline:
To summarise this, Unity Group has revamped Delhi's skyline by developing
commercial, residential, healthcare, and multiple modern-age projects.