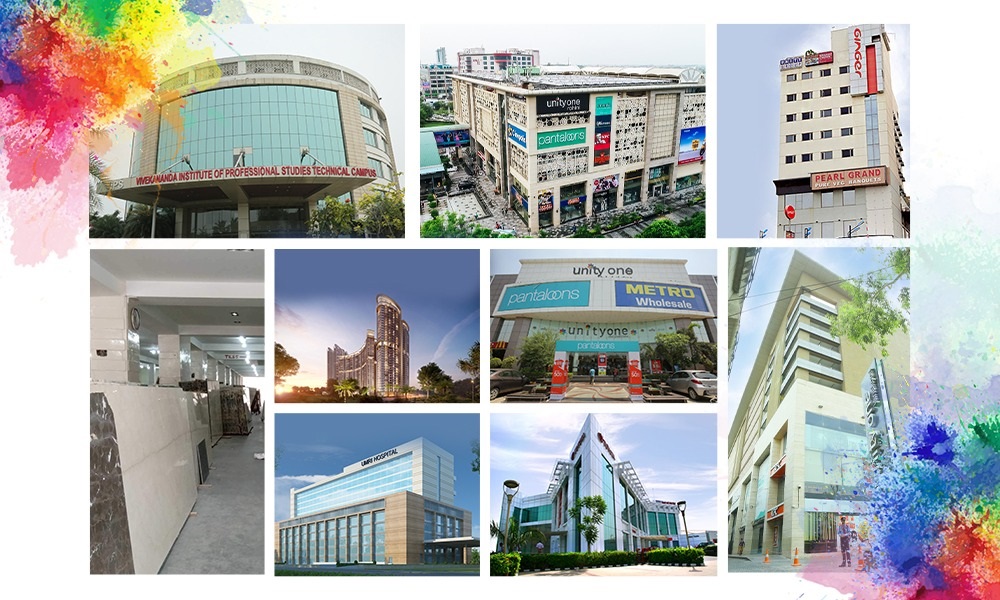 Real Estate
PAINTING DELHI'S SKYLINE WITH COLOURS OF SUCCESS
Unity Group has been successfully shaping Delhi's skyline since 1996. It has painted Delhi's skyline with colors of luxury, entertainment, wisdom, health, and success in various verticals. It is an amalgam of the various verticals it functions in. Each vertical is represented by a specific color that justifies its role in the functioning of Unity Group as a whole. 
The commercial projects by Unity Group signify the grandeur and power of Unity Group by painting Delhi's skyline with the happy colors of entertainment and luxury. The Unity One malls located in Janakpuri, CBD Shahdara, and Rohini, along with Vegas and CityCentre in Dwarka are some of the commercial projects that have painted Delhi's skyline with happy violet colors of entertainment and luxury.
A residential marvel in Delhi, The Amaryllis is the pride of Unity Group. Painting Delhi's skyline with colors of strength and stability, The Amaryllis is one of the most iconic residential spaces in New Delhi. Situated in the premium area of Central Delhi, The Amaryllis offers luxurious 2/3/4/5 BHK apartments, close to the city's main attractions like Connaught Place, India Gate, Airport, Rashtrapati Bhawan, etc.
Sprawling over Delhi's skyline with colors of wisdom, Unity Group has constructed institutions that mould the young minds. VIPS by Unity Group create a holistic environment for learning in the education sector. VIPS also hones the business skills of the future entrepreneurs of the country through its learner-centric pedagogy and high-quality teaching. With child psychology based teaching aids and equipment, along with colorful air-conditioned rooms, Bon Ascent Preparatory School mixes learning and fun for the little ones.
Continuing to spread the colors in Delhi's skyline, Unity Group has forayed into the hospitality sector with its budget hotel-Ginger Hotels in Vivek Vihar and Faridabad. These budget hotels offer a warm and comfortable stay and are equipped with amenities such as mini-fridge, LCD TV, air-conditioner etc. Continuing to build a new outlook for India, Unity Group is also planning on building a five star hotel in Vegas mall, Dwarka along with a business hotel.
Sprawling over Delhi's skyline with optimism and creativity, Unity group has also made its contribution to one of the largest industries in the country, the automotive industry. Unity Group operates in car dealerships through Unity Hyundai.
Painting Delhi's skyline with bright colours of health, Unity Group is coming up with a Multi-Speciality hospital spread over an area of 8 acres in Pitampura. It aims at providing world-class facilities and offering a conducive and caring environment for its citizens.
Unfurling the colours of success and determination over Delhi's skyline, Aggarwal Marbles is a Unity Group venture that was established in 1984. Since then, it has grown boundlessly and is one of the largest importers & traders in Delhi. Aggarwal Marble has also been trading in quality Indian marble & Granites since the last 30 years.
Unity Group, with humility and gratitude, looks forward to spreading many more colors of success over Delhi's skyline with its upcoming projects that will unfold opportunities for everyone.