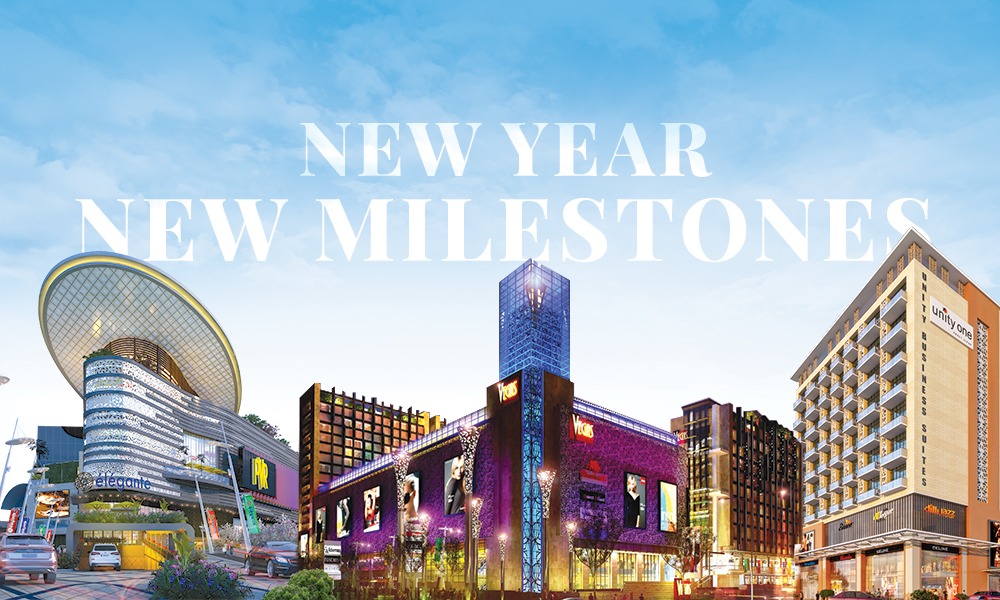 Commercial
NEW YEAR, NEW MILESTONES
They say "a new year is a new beginning" which is correct. The new year comes with a clean slate to start fresh with some new chapters. Since the new year is here, we brought some good news. Unity Group is known for changing Delhi's skyline by delivering almost 10 million sq. ft. residential and commercial projects with complete transparency. At the beginning of the new year, we at Unity Group are thrilled to announce new projects in Delhi. Scroll down to know what's new at Unity Group.
Unity One Business Suites:
Unity Group is introducing Unity One Business Suites in Preet Vihar, New Delhi. The project has retail and office spaces, restaurants, banquets, and three-level multi parking. Moreover, the project is near to Preet Vihar metro station. Unity One business suites are perfect for conferences and meetings. Unity One business suites will be a modern space for all the new-age professionals.
Elegante By Unity Group:
We are happy to announce our new retail project named "Elegante" located in Netaji Subhash Palace, Delhi. Unity Group has delivered multiple retail projects in the past. Elegante is a 7,00,000 sq.ft. retail project with luxury retail spaces, six multiplex screens, an entertainment zone, food courts, and restaurants. Netaji Subhash Place is a hub for corporates & foodies and with the Elegante launch, it's going to be a place for all to shop, eat and relax with friends and family. To summarize, Elegante will be a ready-to-go place for Delhiites and an upgrade for Netaji Subhash Place.
Unity Group recently launched an iconic mixed commercial project named Vegas in Delhi's developing city Dwarka. Vegas is known as one of the largest hypermarkets that offer unlimited choice, comfort, and convenience. With international retail brands, luxury hotels, business suites, workspaces, multi-cuisine restaurants, entertainment & eatery clubs, Vegas will change the lifestyle of Dwarka. In short, Vegas is an ideal place for all to celebrate moments with your loved ones.
We at Unity Group have always been working hard to serve the best to customers. Stay tuned with us, to know more about the upcoming projects of the Unity Group.